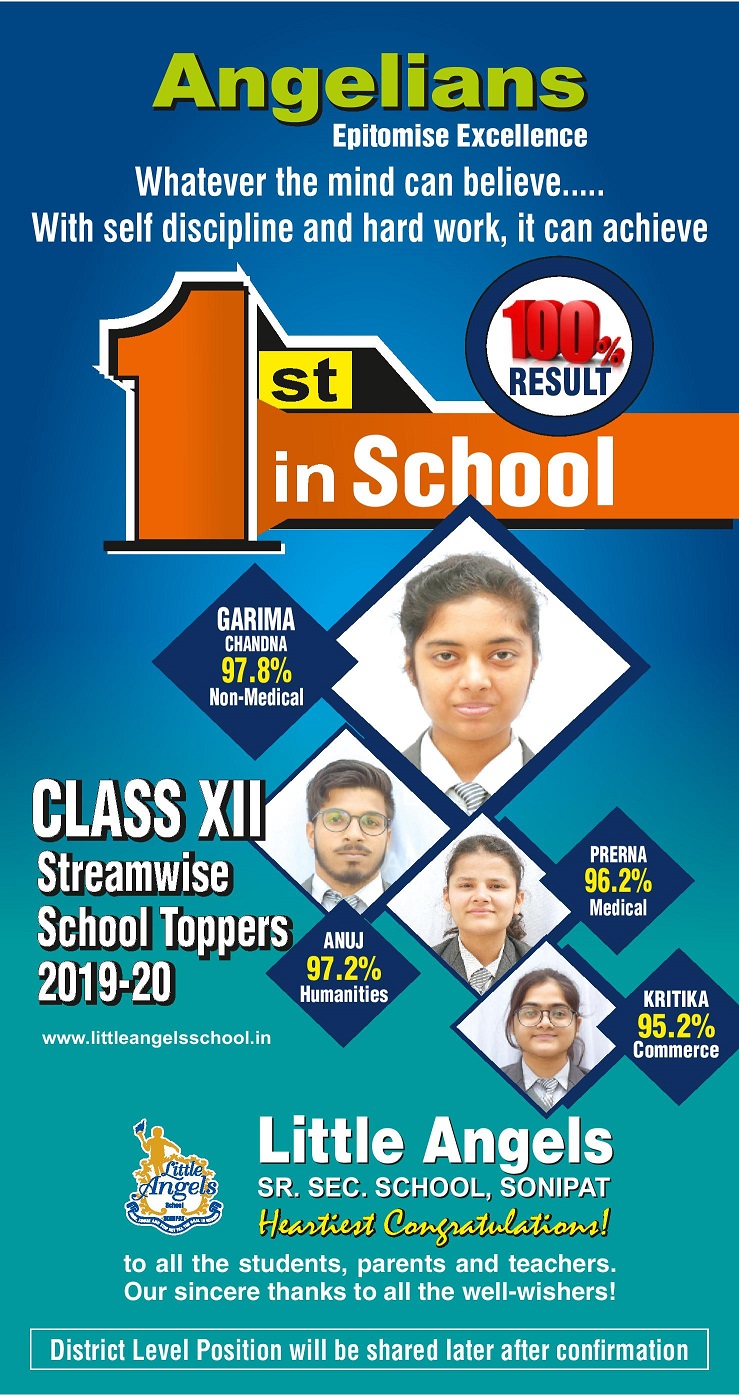 SAGA OF SUCCESS CONTINUES... AISSCE CLASS 12 RESULT 2019-20
Basking in the glory of Spectacular Success!
The synchronized efforts, persistent hard work and dedication along with commitment of Angelians have been crowned with success and in turn have brought laurels to the school. Once more Little Angels School has proved its mettle by achieving stellar success in class XII Board Results. Garima Chandna (Non- Medical stream) is the school topper with magnificent 97.8% followed by Anuj (Humanities stream) with outshining 97.2%, Prerna (Medical stream) excelled with 96.2% and Kritika (Commerce stream) scored brilliant 95.2%. It is noteworthy that Money with whopping 97.6% is the second topper and Swati with 96.6% secured third position in Non-Medical. From the Humanities Stream, Yana scored the second highest with 96.8% and the third highest scorer is Ujjawal Kaushik with 95.8%. Khushboo Jain with 95% is the second topper and Vanshika with 94.4% is the third highest scorer in Medical stream. Ritika and Yashika with 94.4% became the second highest scorers and Akash with 94.2% is the third highest scorer in Commerce stream.
Another feather in the School's cap is - 96 students have secured 90% above score. 334 students have secured First division. Money displayed a stunning performance with perfect 100 marks in Mathematics. Khushbu Jain scored perfect 100 marks in Physical Education. Himanshi put up a stellar performance by grabbing 99 marks in English. Money and Chirag Mehta touched the magnificent mark of 99 marks in Physics. Garima scored brilliant 99 marks in Chemistry. Anuj and Yana scored flawless 99 marks in Political Science. Money scored commendable 99 marks in IP. Astha and Bhavya scored 99 marks in Typography. Economics highest scorer is Nishchay Dogra with 98 marks. Anuj, Yana, Chiya, Nancy, and Shresth Wadhwa scored 98 marks in History. Ritika scored whopping 96 marks in Accountancy. Khushbu Jain scored 96 marks in Biology. Ritika and Nishchay Dogra scored 96 marks in Business Studies. Divayanshi scored 95 marks in Hindi.
It is a matter of great pride that 310 students in English, 115 students in Economics, 107 students in Business Studies, 105 students in Physical Education, 104 students in Mathematics, 95 students in Physics, 95 students in Chemistry, 72 students in IP, 68 students in Accountancy, 62 students in History, 59 students in Typography, 50 students in Political Science, 27 students in Biology and 24 students in Hindi showcased an amazing performance by achieving distinction. 263 students scored more than 75%. An exceptionally high number of distinctions, average percentage and number of students scoring above 90% in the aggregate, has definitely given the school a place of pride in the field of school - education.
The consistent work by the students, dedicated efforts of the teachers, blessings of the proud parents, and the unconditional support and guidance of the School Management Team led by the dynamic leadership of the School Chairman; Mr. Ashish Arya has been instrumental to this historic success.
The School Chairman; Mr. Ashish Arya lauded the efforts of the students and teachers which led to glorious success in CBSE Board results. He encouraged everyone by stating that we will continue to tread upon the path of success together with confidence, zeal and pride and thence, keep adding feathers with all humility.
All the achievers were grateful to their mentors and School Management for providing excellent and congenial ambiance on the School campus where teachers work proficiently for the all round development of the students.
The School Chairman; Mr. Ashish Arya, Dr. Neha Arya, the Principal; Ms. Asha Goyal, Vice Principal; Ms. Promila Sehgal, Headmistress; Ms. Geeta Arora, the Co-ordinator; Ms. Sangeeta Sethi and teachers congratulated the students for their hard work and inspired them to excel and conquer the new horizons and scale new heights, elevating the glory of Little Angels.
For further information contact the Co-ordinator; Ms. Sangeeta Sethi at Mobile no.: 9215003647.
Details to contact the parents and guardians of the School achievers are as follows:
Garima Chandna D/O Mr. Manoj Chandna (Mob. no. 9466768561)
Kritika D/O Mr. Manoj Kumar (Mob. no. 9466824002)
Prerna D/O Mr. Narendra Singh (Mob. no. 8010519401)
Anuj S/O Mr. Subhash Chandra (Mob. no. 9813047917)