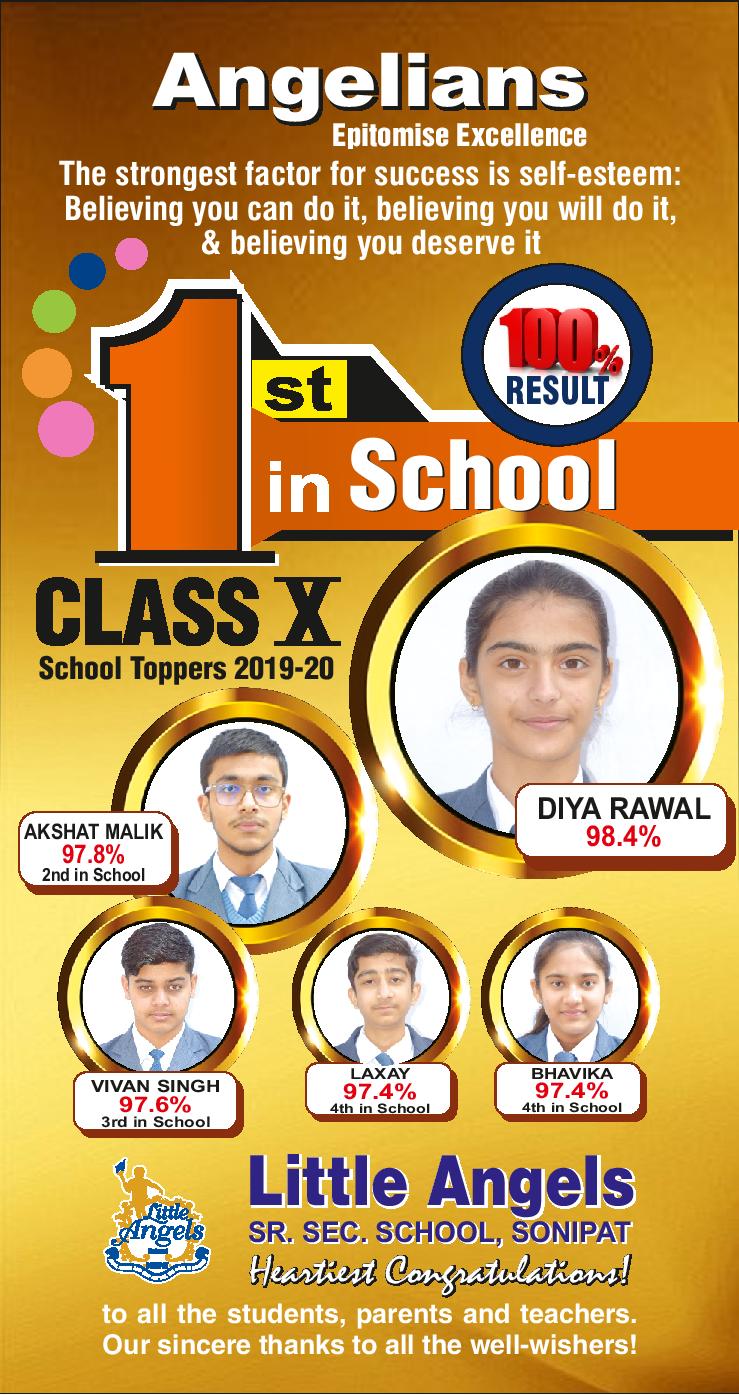 SCINTILLATING PERFORMANCE OF ANGELIANS IN AISSE CLASS 10 RESULT 2019-20
Continuing the legacy of excellence and commitment as envisioned by the School Management, Angelians ace the Class 10 AISSE Examination. Diya Rawal's iron persistence, resolute determination and scintillating performance in board examination has helped her grab the School Toppers' position with whopping 98.4% . Akshat Malik with magnificent 97.8% is the second topper. The third highest scorer is Vivan with brilliant 97.6% and Laxay and Bhavika are not far behind with 97.4%.
The School rejoices in the glory of success in CBSE Board Examinations with a pass percentage of 100. 40 students have secured 95% above score and 117 students cross the mark of 90%. A majority of 358 students have secured First division.
It is a matter of great pride and honour that 370 students in English, 287 students in Hindi, 228 students in Mathematics, 178 students in Science, 259 students in Social Science and 317 students in IT showcase a remarkable performance by achieving distinction. The collaborated efforts put in by the students, the dedicated educators, encouraging parents, and the unconditional support and guidance of the School Management Team led the influential leadership of the School Chairman; Mr. Ashish Arya and Principal Ms. Asha Goyal have been instrumental to this unparalleled success.
The School Chairman; Mr. Ashish Arya praised the efforts of the students and hard work of the committed teachers which led to glorious success in CBSE Board results. He encouraged students to excel in the world of academics and move forth to embrace their future with open arms. All the achievers were grateful to their mentors and School Management for providing an environment conducive to learning, aspiring and achieving.
The School Chairman; Mr. Ashish Arya, Dr. Neha Arya, the Principal; Ms. Asha Goyal, Vice Principal; Ms. Promila Sehgal, Headmistress; Ms. Geeta Arora and teachers congratulated the students for their hard work and motivated them to passionately pursue the journey of success.